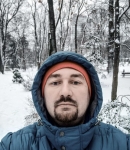 barbat, 40 ani
BUCURESTI
cauta femeie
I have a daughter, 5 years old, lives with her mother we are separated for 1 year now. My profession is finance but I am working as a SAP consultant at Samsung. IT is one of my passions. Also I adore chocolate and is the one thing I cannot give up on. From time to time I enjoy going to sea to swim, I like the sense of freedom it give me. The mountains are also one of my favourite ways to relax after a week of hard work
Have also a wild side , skydiving , scuba diving, bugeejumping but trying to cool down a bit now.
Love poetry and to read adventure books. Enjoy a good movie at cinema from time to time.
If you want to know more , meet me. Mihai is my name.
IT / Computere / Internet
Filme / Internet / Jocuri /
Mica si intima, numai cu prieteni apropiati
Traditionala bucatarie romaneasca
Mergem la o plimbare in parc
Dragostea mea neconditionata
Incununarea iubirii intre doi indragostiti
Banii nu ma ingrijoreaza deloc